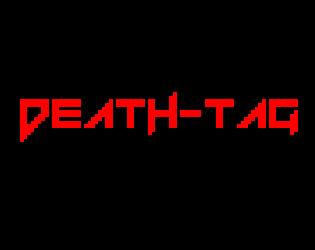 Death-Tag
A downloadable game for Windows
In the year 3000, the world flies the United States flag.
A corporate paradise where profit is happiness.

In this future metropolis earth, there is an infamous
game show. Contestants play a lethal variant of a timeless
funtime activity.

If they survive, they are given one million dollars and
complete immunity to the law for the rest of their life.

If they die, they die.

This is a bloodsport. This is a fatal amusement. This is
a wicked attraction.

This is DEATH-TAG.
---
Death-Tag is an arena sports game in classic arcade style set in a dystopic future where contestants battle for their lives. The multiplayer part of the game is a stylised fast-paced game of tag, while the singleplayer part focuses on the player's ability to navigate difficult maps and tag five golden 'enemies' under the pressure of time.
---
If you enjoy Death-Tag, be sure to try out Sexhammer Stone's debut game, BLOBE. In a place far across the universe, a race of anthropomorphised spheres lead oblivious lives. These spheres are the blobes. You take control of one renegade green blobe who has just robbed a major bank, and now you're on the run! Dodge traffic, outwit the police, juice up, and face massive military juggerblobes on your run for freedom!